Nishijin area, where many students live in and its shopping street is lively. It takes 5 min by walk to Nishijin Station on Fukuoka City Subway Kūkō Line and 8 min (4 stops) to Tenjin. Seinan Gakuin University is within walking distance. There are 280 unique shops such as secondhand bookstores, variety goods stores, bakeries and cafes on Nishijin Mall close to the share house so you wouldn't have trouble with shopping. Fukuoka Tower and Seaside Momochi are kind of within reach as part of walking. The share house is recommended for people who want to have a slow life at a distance from the central Fukuoka.
Q1. Appealing points of the locations and surroundings
Tenjin is 4 stops (8min) away from the nearest station, Nishijin Station on Fukuoka City Subway Kūkō Line and Hakata is 7 stops (13 min) away. The share house is accessible to anywhere since there are many buses running. Energetic Nishijima Mall attracts many students and gets very busy. The mall has everything like a dollar store, rental shop, and pharmacy.
Q2. What are selling points of the house?
The first solitary house of Hidamari in Fukuoka. More than anything, a spacious island style kitchen is highly recommended for people who love cooking. The interior decoration is based on the color white and brown, and renovated by utilizing an atmosphere of the Showa era.
Q3. Recommended spots around the house
You can get anything at a reasonable price in Nishijima Mall. "PRAVIA," a shopping mall that is directly connected to Nishijima Station, has newly opened. If you walk a little bit father, you can go to Fukuoka Tower and Seaside Momochi. You can go to a beach on as part of walking from the share house.
The information of the house
An address
5-6-11 Nishishin, Sawara-ku, Fukuoka City, Fukuoka Prefecture
Traffic
Subway Airport Line "Nishishin Station"
Bus stop "Nishishin 4-chome"
A condition to live
Male OK
Woman OK
Foreign OK
A foreigner:A resident's card、Person himself confirmation documents
(※I ask for a residence card and the copy of the visa when you do not have a resident's card.)
Facilities
Living
10.84㎡
Kitchen
10.68㎡
Bathroom
Two
Restroom
Two
Washing machine
Free
Dryer
N/A
The Internet
Wireless LAN
Floor plan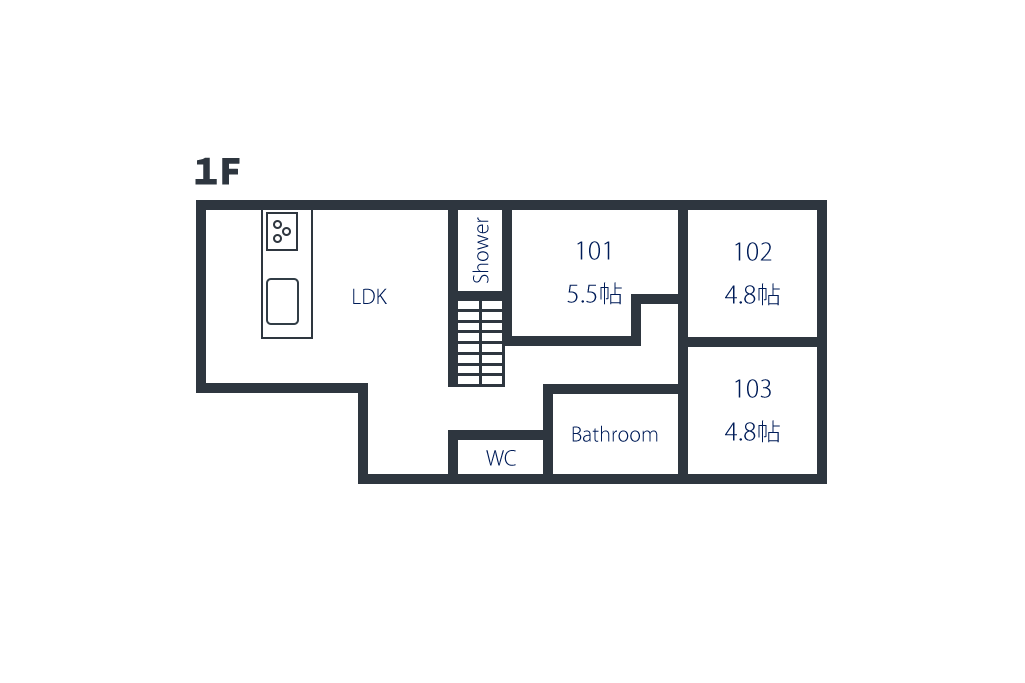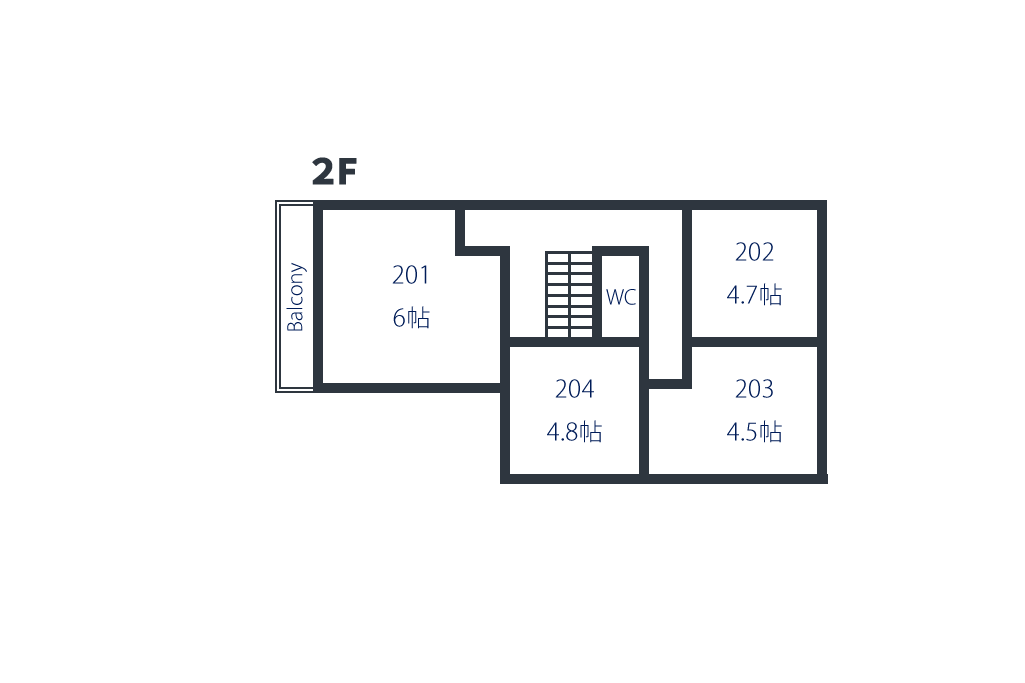 Rent list
Room number
Room
Rent
Utilities/internet
Availability
101
1F
Western-style room room 8.53㎡(private room)
Occupied
102
Western-style room room 7.44㎡(private room)
Occupied
103
Western-style room room 7.44㎡(private room)
Occupied
201
2F
Western-style room room 9.29㎡(private room)
Occupied
202
Western-style room room 7.27㎡(private room)
49,800
12,000

Available

203
Western-style room room 6.98㎡(private room)
48,800
12,000

Available

204
Western-style room room 7.44㎡(private room)
Occupied
Initial cost
| | |
| --- | --- |
| Deposit/Key money | 0yen/0yen |
| Brokerage fee | 0yen |
| Deposit | 0yen |
| Processing fee | ¥30,000 (not refundable) |
| Cleaning fee | ¥30,000 (when you move out) |
| Key exchange fee | 0yen |
| Fire insurance | Optional (Free) |
| Home appliances | 0yen |